Happy Hump Day! It's been rough getting up early this week but I am loving the energy I have after work. Usually when I get home it's all I can do to keep myself away from the couch but these past few days I have been ready to take on the world. I'm sure it's just temporary, but I'm enjoying the boost while it lasts! Here is some fun from around the web to get you through your hump day.
1. Street art from around the world, including this gem.
2. A wearable planter. Not sure if it's a "do" or "don't", but it's definitely unique!
3. A hot tub boat. Definitely a "do"!
4. 25 creatively tasty ways to use Sriracha, bloody mary anyone?
5. Loving just about everything in this shop, especially this sweet neon heart print.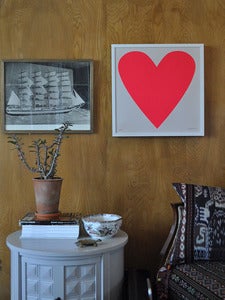 love and candy,
lindsay